United States Bankruptcy Court
Welcome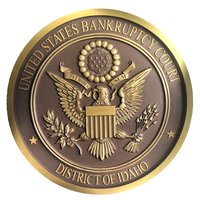 Welcome to the U.S. Bankruptcy Court for the District of Idaho.
We hope this website will provide useful information about the Court, its operations and its processes, and answer many of the questions you might have. Please let us know if you have suggestions to improve the site.
Below you can find the latest news from the Bankruptcy Court for the District of Idaho.

GO 434 re BK Case Assignments
Nov 30, 2023
Please see the new GO regarding assignment of bankruptcy cases and adversary proceedings.

District and Bankruptcy Fee Increases 12/1/2023
Nov 29, 2023
Please click for the new schedules of fees effective December 1, 2023.

Funeral Mass for Judge Joseph M. Meier
Nov 28, 2023
The funeral mass for Judge Meier will be held on Monday, December 4th at 11 a.m. at the Cathedral of St. John in downtown Boise.

GO 433 Appointing Judge Hillen as Chief BK Judge
Nov 28, 2023

GO 432 re Court Closure on November 24, 2023
Nov 22, 2023

Passing of Chief Bankruptcy Judge Joseph Meier
Nov 22, 2023
In honor of his passing, the Courts will be closed on Friday, November 24, 2023.

Public Notice re Bankruptcy Local Rules Changes
Nov 16, 2023
The public is invited to review the attached proposed Local Rule changes. Comments are due by December 16, 2023, at 5:00 p.m. MST.

GO 431 re 2023 Amendment of U.S. Sentencing Guide
Nov 01, 2023

Print Me