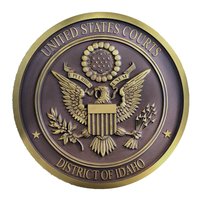 The District of Idaho Clerk of Court, Stephen W. Kenyon, welcomes you to the U.S. District and Bankruptcy Courts for the District of Idaho. We are one of 15 districts in the Ninth Circuit which spans 9 western states. Idaho is proud to be one of only six consolidated District and Bankruptcy Clerks' Offices within the federal judiciary.
The U.S. Courts for the District of Idaho was created with statehood in 1890. Our offices are located in Boise, Coeur d'Alene, and Pocatello.
We trust this website will give some insight into the functions of the U.S. Courts and how the Clerk's Office can better serve the people of the State of Idaho.

2023 Civics Contest Winners Announced
May 30, 2023
The District of Idaho is pleased to announce the winners of its 2023 Civics Contest. Please click for more information.

Applications Open for Lawyer Representative
May 30, 2023
The District of Idaho is accepting applications for a lawyer representative from the 6th or 7th districts through 9/22/2023.

Bankrupcty Case Assignments by Digits
May 12, 2023

Judge Amanda K. Brailsford to Join the Bench
May 08, 2023
Click for the PowerPoint presentation from the Lawyer Rep/FBA Social Security CLE offered on 5/3/23.

Refreshed Site for Violation Notice Fine Payment
Apr 25, 2023
The Judiciary's Central Violations Bureau (CVB) website has been refreshed and it's easier than ever to pay fines online.

"Robes in Schools" in San Diego
Apr 21, 2023
Judge Grasham recently participated in a "Robes in Schools" event in San Diego. Click for more information.
Update to Local Civil Rule 5.1(l)
Apr 06, 2023
Click to review an update to the procedures for District Court filing after 5:00 p.m. Mountain in the event of a CM/ECF failure.
Mission Statement


The mission of the United States District and Bankruptcy Courts for the District of Idaho is to provide an impartial and accessible forum for the just, timely and economical resolution of legal proceedings within the jurisdiction of the Courts, so as to preserve judicial independence, protect individual rights and liberties, and promote public trust and confidence.